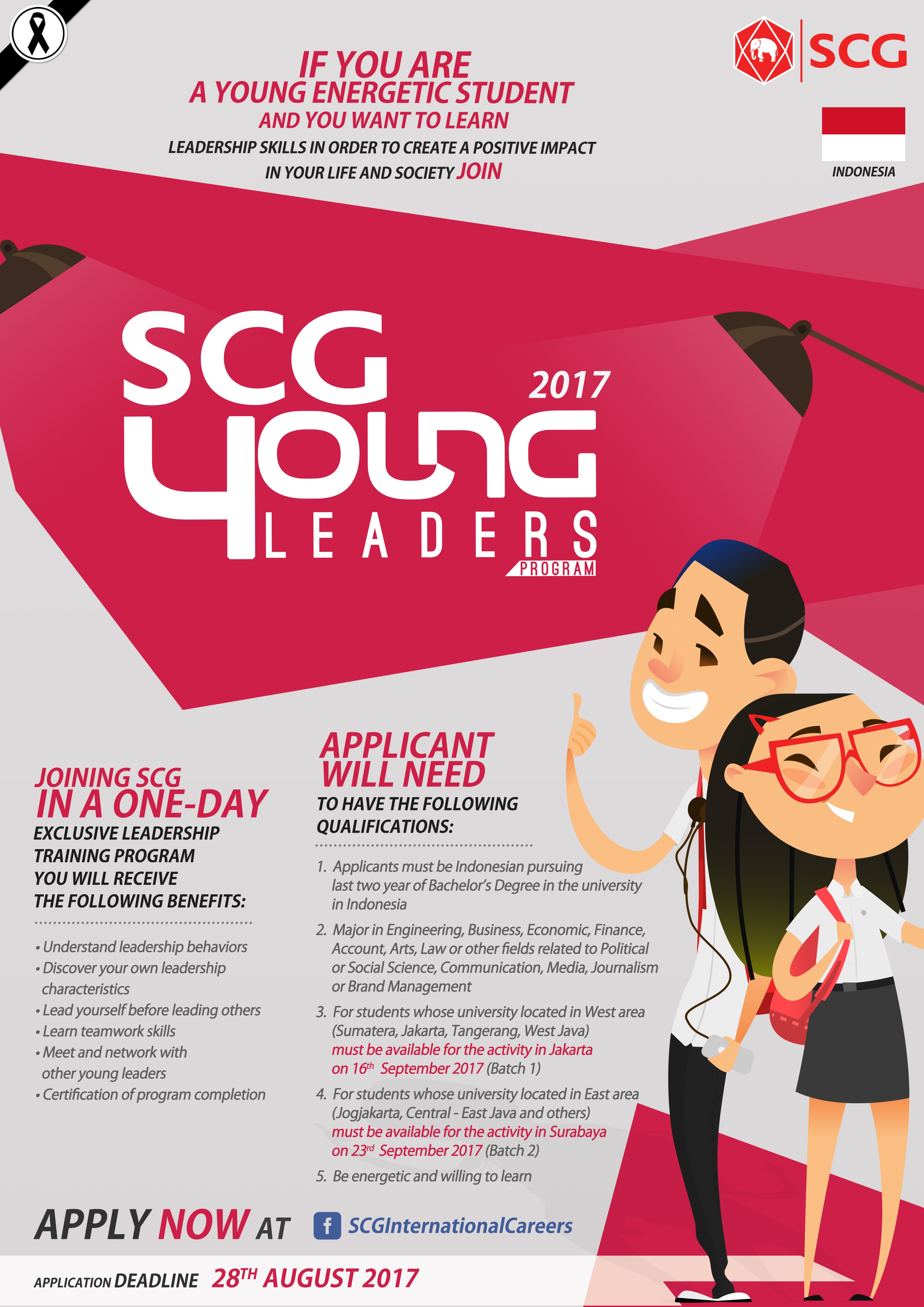 SCG Young Leaders Program 2017 (Indonesia)

Here comes the SCG Young Leaders Program for Indonesian students! If you want to become future
leaders, apply now! Application deadline is 28th August 2017. (Before 15:00 Bangkok Time)

SCG Young Leaders Program
SCG, one of the leading ASEAN conglomerates, is offering the "SCG Young Leaders Program", a one-day
program which focuses on developing participants' leadership skills. The program has successfully been
organized in Vietnam and Cambodia and received numerous positive feedbacks from participants. If you
want to become the future leaders, please read below for more details of our program!
Designed by SCG Learning, the one-day program aims to give participants fundamental leadership
concepts and provide them opportunities to teamwork with other young leaders.

SCG Young Leaders will receive the following benefits:
• Understand leadership behaviors
• Discover your own leadership characteristics
• Lead yourself before leading others
• Learn teamwork skills
• Meet and network with other young leaders
• Certification of program completion

Applicants will need to have the following qualifications:
1. Applicants must be Indonesian pursuing last two year of Bachelor's Degree in the university in Indonesia
2. Major in Engineering, Business, Economic, Finance, Account, Arts, Law or other fields related to Political or Social Science, Communication, Media, Journalism or Brand Management
3. For students whose university located in West area (Sumatera, Jakarta, Tangerang, West Java) must be available for the activity in Jakarta on 16 th September 2017 (Batch 1)
4. For students whose university located in East area (Jogjakarta, Central - East Java and others) must be available for the activity in Surabaya on 23rd September 2017 (Batch 2)
5. Be energetic and willing to learn

How to apply?
1. For Indonesian Students, please fill application form at ttps://goo.gl/S1DTrH
2. Deadline of Application is 28th August 2017 (Before 15:00 Bangkok Time)

Everyone can learn how to be good leaders.
Get ready for "SCG young leaders program 2017"

SCG Young Leaders Program 2017